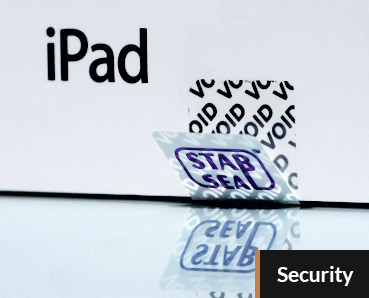 Berkshire Security Products, the security label division of Berkshire Labels are dedicated to the development, manufacturing and supply of self-adhesive labels and tapes that guarantee the security and authenticity of products and brands.
Whether it is tamper evidence, asset protection and identification, brand protection or security marking, Berkshire Security Products can provide quality and cost effective security labelling solutions to meet all of your security label requirements.
Our self-adhesive security portfolio includes permanent, semi-permanent, non-residue seals, de-lamination seals, 2 part voiding seals, stretchable seals, continuous tape and fragmenting security seals.
All of our security labels can be enhanced with additional security features including security slit patterns, sequential numbering, consecutive bar codes, holograms, scratch off and OVI technologies.
Our combination of Digital and Conventional technologies provide us with the flexibility to print short run, multiple sort's right through to larger volume requirements of security labels. 
The opportunities afforded by our HP Digital Presses have enabled us to challenge the conventional appearance of a security label with the realisation of high quality, four colour imagery and graphical personalisation.
We have introduced a dedicated standard for the manufacturing of all security labels at Berkshire Labels.
All labels are produced to the highest standards and are subject to additional quality checks, including quantity verification and line clearance procedures.
Berkshire Labels are committed to supplying faultless security label solutions on time and every time.
PLEASE TAKE A LOOK AT OUR FULL SECURITY RANGE RANGE BELOW…
Back to main portfolio page
---