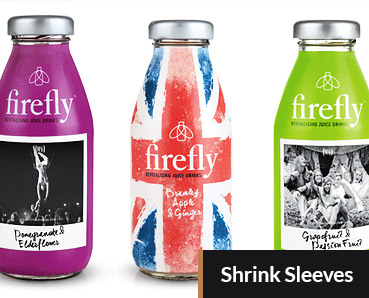 Berkshire Labels have your shrink sleeve requirements covered, 360 degrees.
With more and more choices available on shelf, printed shrink sleeves are a unique form of packaging that will differentiate you from the crowd.
Shrink sleeves give brands an opportunity to print and wrap their product 360°. Without the space limitations of conventional labels, shrink sleeves allow for greater creativity in presenting brand identity.


The growing popularity of printed shrink sleeves have been widely adopted across many market sectors including food and beverage, toiletries and cosmetics, household and pet care, pharmaceutical and nutraceutical products.
Sleeves provide a premium finish to your product and allow labelling on very complex shaped containers. Through clever designs, the sleeves will bring those shapes to life, making your products stand out from the crowd. Mirror printing on PVC or PET materials delivers a robust and scratch resistant surface that will ensure the design remains pristine throughout the life of the product.
Sleeves are also a great eco-friendly solution; no adhesive to worry about and with the inclusion of a perforation allows the consumer to easily remove it from the container, which can then be recycled.
JUST "SLEEVE IT WITH US"
With the capability to print both digital and conventional Berkshire Labels are uniquely positioned to provide one off fully sleeved mock up's and print runs from as little as a thousand sleeves upwards.
This provides our customers with an extremely cost effective alternative to printing on the container and eliminates the necessity for large MOQ's and inflexible lead-times, which the market has long been waiting for.


Berkshire Labels can help with the distortion of your artwork, providing a 3D rendered proof for mobile or desktop interaction. Just let us have the bottle specification and we will do the rest for you.
We Can Partnership

Berkshire Labels have partnered with We Can Solutions, one of Europe's largest and innovative mobile canning operations to provide a finished shrink sleeved can from as little as 5000 units.
This solution is set to revolutionise the way small-scale craft cans are branded, exclusively via wecan.solutions
Back to main portfolio page