Berkshire Labels continues to set new standards in digital labelling with one of the most comprehensive operations in the UK.
This strategy provides Berkshire Labels with the perfect blend of Digital and Conventional technologies enabling us to deliver optimum quality and cost effective solutions for short to medium label runs, personalisation right through to longer run label requirements.
Berkshire Labels have invested in Indigo technology, the most technically advanced digital solution in the market place and supported by Hewlett Packard, the world leaders in digital technology.
HP Indigo's superior liquid electro Ink technology is the only digital colour printing process that matches gravure printing. With high resolution printing and perfect registration HP Indigo can achieve up to 97% of the PANTONE® colour gamut using on-press simulations.
The Indigo's one shot colour technology achieves accurate, repeatable printing. All colour separations are laid down simultaneously in a single pass on the substrate, creating perfect colour to colour registration.
Our Indigo presses offer unmatched application flexibility, enabling Berkshire Labels to produce a wide range of self-adhesive, unsupported film and shrink sleeve solutions.
In support of our HP presses, we have a wide range of Digicon label converters all with their own unique offerings. These include foil and embossing combinations, reverse printing, laminating and 3/5 page peel and read constructions. They can also deliver unique PMS colours, typically metallic or fluorescent; a perfect blend of digital and conventional printing.
Our second HP Indigo was commissioned with a full in-line Digicon converter, providing us with complete end to end efficiency.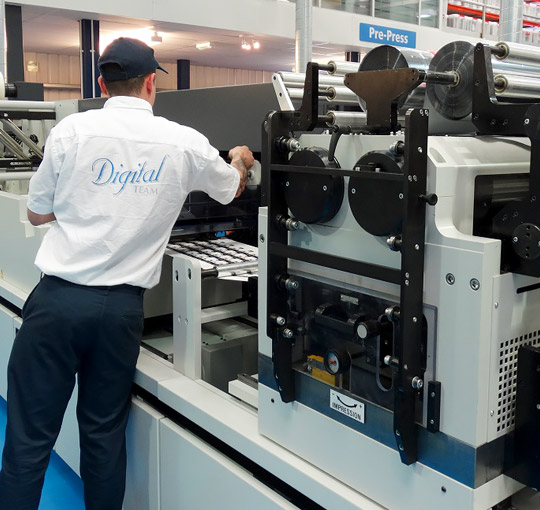 HP INDIGO DIGITAL BENEFITS
• No plate costs
• Short to medium multi run sorts
• Superior spot colour matching, achieving 97% of PMS colours
• Exceptional quality, registration and colour consistency
• Extensive substrate flexibility from 40gsm to 350gsm
• Variable imagery and data, versioning and personalisation
• Printed proofs at a fraction of the cost of a standard wet proof
• Flexibility to respond quickly to market changes
• Less waste – Print what you want when you want
The opportunities afforded by digital print continue to evolve, and brands are using the technology more and more to get shorter runs on the shelf, try out new designs and engage in a two way conversation with their consumers by embracing personalisation, versioning and target specific campaigns.
The HP Indigo Digital Press has received the Green Leaf Mark from Intertek; one of the world's leading independent certification and testing companies. It also supports many eco-certified substrates as well as environmentally friendly primers, varnishes, and adhesives.
Berkshire Labels are members of Dscoop, an independent community of HP Digital partners focused on exchanging experiences, discussing best practices and focused on growing digital print.