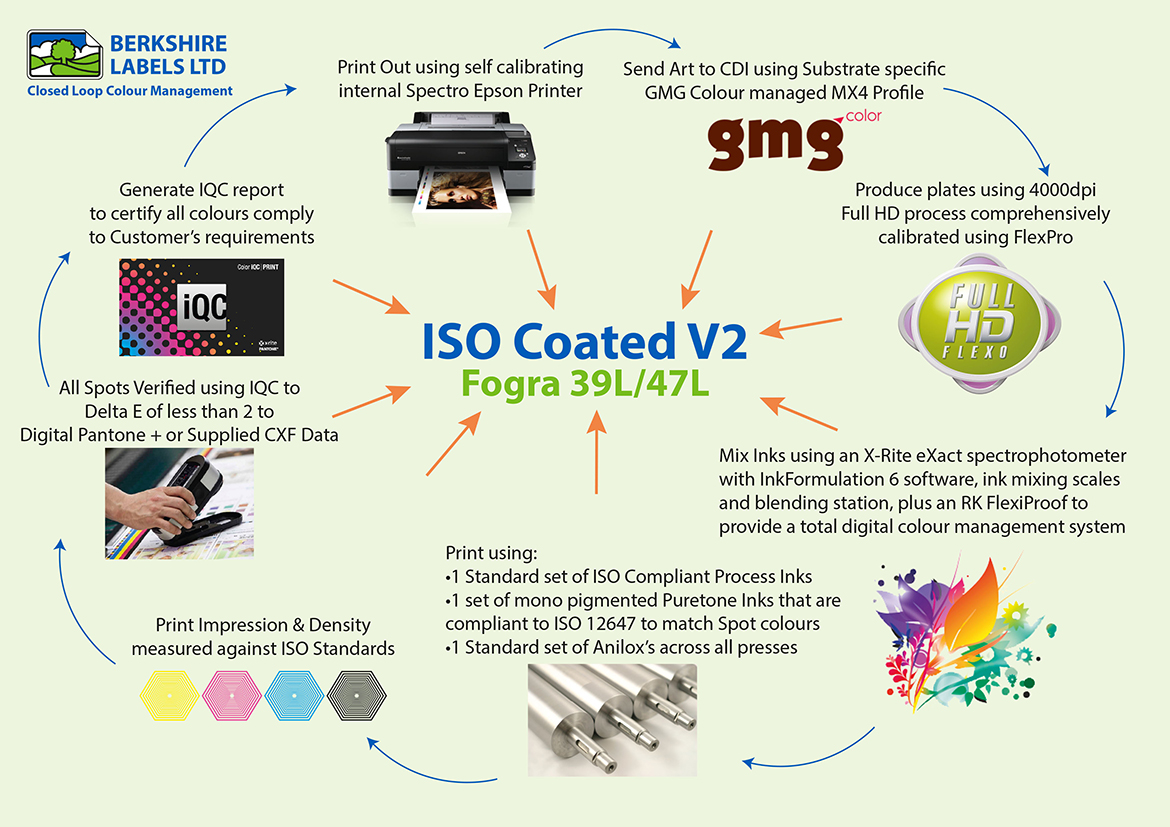 At Berkshire Labels, our pre-press department provides us with complete control over colour management, quality,
consisten
cy
and version control.
 We are fully GMG intergrated, using the latest Xrite colour measuring devices and IQC colour software to realise colour consistency across all of our presses, ensuring colour standards and designs are faithfully met.
We are able to use CXF data to match desired brand colours and Pantone colours to within a Delta E reading of <2. Spectral data taken from the print run can be immediately reported back to our customer confirming the colour criteria has been met.
All of our presses are profiled to point to one colour standard, ISO Coated V2 (Fogra39L). Using the very latest pre-press technology from Esko Graphics enables us to fully automate our workflows and deliver the ultimate in streamlined efficiencies.
Complementing our colour management programme we have the very latest in CTP technology with Full HD, realising the optimum in quality from UV Flexo.
ARTWORK
Our experienced studio team can help with artwork setting, amendments and layouts right through to delivering innovative yet practical designs at a fraction of agency costs.
We can supply our customers with finished die cut samples from our wide format ink-jet printer/cutter to assist product launches, exhibitions or test marketing.
We work in Adobe Creative Suite however can accept files created in other commonly used software programs. Our team is here to offer guidance and advice on any artwork questions you may have.
Electronic Files can be supplied via email, disc or our file transfer site