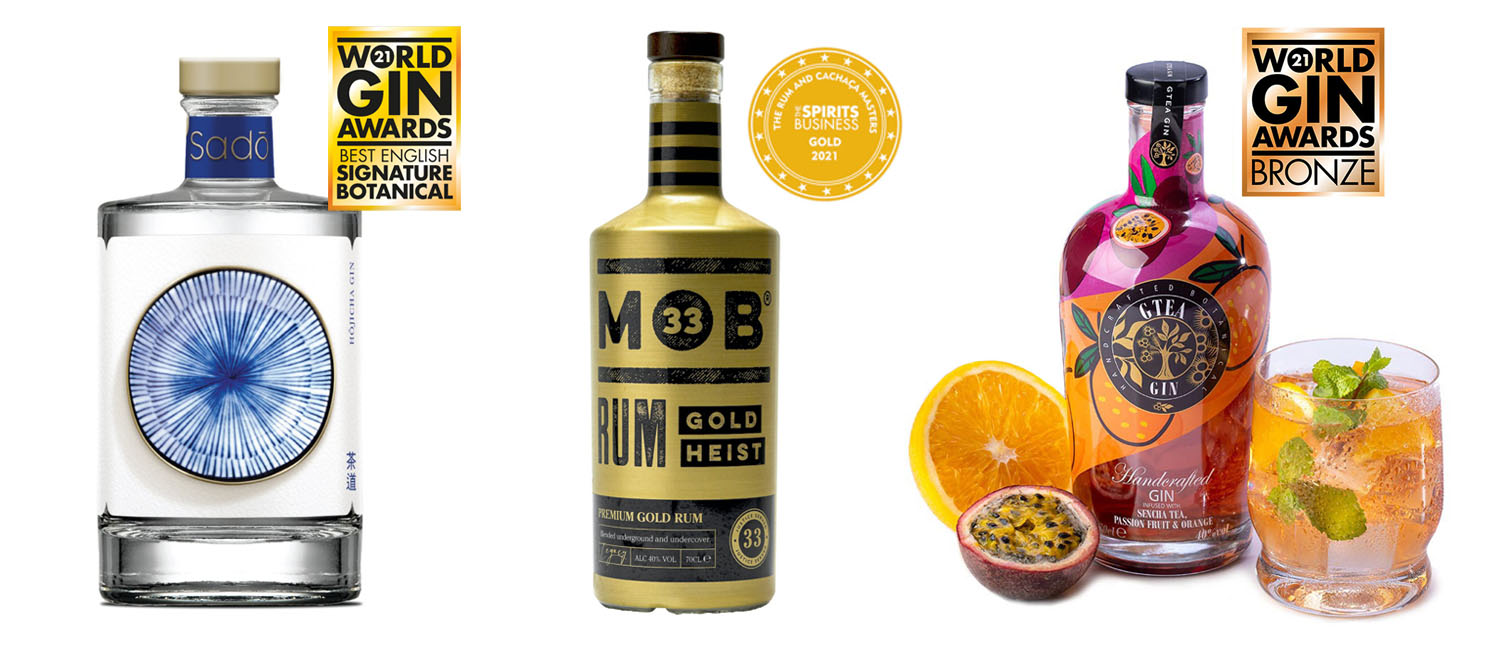 And the winners just keep on coming….We are always excited to work on realising our customer's creative ideas, delivering some stunning finished designs on labels and sleeves to enhance their products.
It's even more rewarding when their products go on to be recognised by their peers and industry bodies and although they are not packaging awards we are still very proud to be part of their journey and success….and of course naturally proud of our labels and sleeves that showcase them.
SADO
Sadō "The Way of Tea" took title of Best English Signature Botanical Gin at World Gin Awards.
JUDGES COMMENTS
"A really distinctive green tea character on the nose which continues onto the palate, where it is joined by herbal and earthy notes. The finish is long, with a little caramel sweetness."
Distillation of Sadō Gin takes place in small copper pot stills, 200 bottles at a time, in England. The gin is then reduced to 46% of alcohol to best showcase all the aromas and flavours it contains.
LABELS
A luxury cotton white material with HP Indigo print, Satin Hotfoil, Embossing and Silkscreen over the Japanese antique tea pottery image.
MOB HEIST
Mob 33 Gold Heist Rum won a Gold Medal award at The Spirits Business in the The Rum & Cachaca Masters 2021 competition.
Mob 33 Gold Heist Rum is a blend of five, three and two-year-old Latin American and Caribbean golden rums distilled using pot and column stills. Matured in ex-Bourbon oak casks, Mob 33 Rum is produced without the addition of sugar or colourings.
LABELS
A PET Shrink Sleeve decorated with HP Indigo print incorporating digital silver to create a beautiful metallic finish. Further enhanced with a spot varnish to provide a matt brushed appearance to the gold against a contrasting black spot gloss.
GTEA GIN
Sencha Green Tea, Passion Fruit & Orange Gin was awarded Bronze in the Flavoured Gin category.
Their journey began on a warm summer's afternoon, when they stumbled across the idea of infusing a simple fruit tea with distilled gin. Their mission at GTEA Gin, is to produce a high-quality craft gin, which will leave a long-lasting impression with our customers.
JUDGES COMMENTS
"Good gin background, with just subtle green tea aspects to the flavour. There is a hint of black tea along with lemon, rum, sherry, and some sweetness. Beautiful elegant white peach notes and really tasty!

SLEEVES
A PET Shrink Sleeve printed with HP Indigo print, each of the 7 sku's represented on the sleeves with their own botanical ingredients. They sit within two dominant colours that beautifully curl around the bottle from neck to the base, with transparent areas for the customer to see their unique tea infused gin.