The Firefly drinks brand has unveiled a new consumer campaign, called 'My Firefly', to celebrate the relationship consumers have with the brand and drive deeper engagement.
To support the launch, Firefly offered on the spot personalised bottles at Wholefoods, Kensington during May and will be at Festival No.6 from 1 – 4 September, where consumers will be able to pose in front of a Firefly bottle-shaped photo booth with props and costumes and then buy their personalised bottle immediately.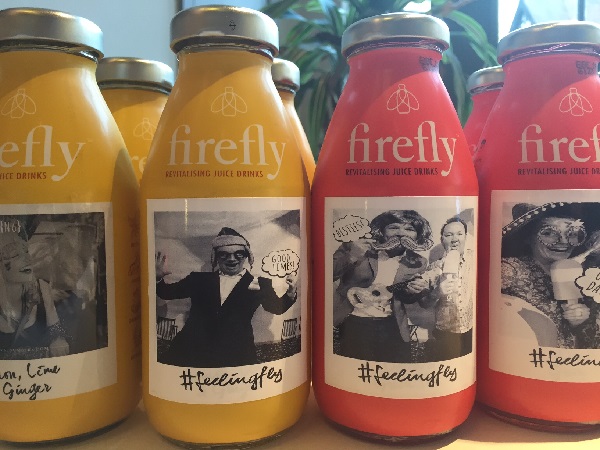 The redesigned bottles will feature images from Festival No.6, the boutique arts and music festival, ahead of the consumer photos in autumn 2016, where a new set of Polaroids will launch each quarter.  Customer pictures will be uploaded via the Firefly website app or through social media using the hashtag #feelingfly.
Sarah Brooks, Marketing Manager of Purity soft drinks, commented: "Innovation is key for driving the soft drinks category forward and consumer engagement is crucial.  Having received so many images from loyal fans over the years, we felt the next step of brand development was to follow their lead."
Sales Director Grant Picking, Managing Director Paul Roscoe and Quality Manager Steve Hudson pictured above feeling fly!
The firefly sleeves have been printed 360 degrees with a vibrant PMS colour to suit each flavour, complemented with classic black and white 'polaroid' imagery on the front.
This campaign has also been a great showcase for our new shrink sleeve portfolio, the very latest investment from Berkshire Labels. Berkshire Labels are now able to provide printed and seamed sleeves from as little as 10,000 sleeves either digitally or conventionally.
We can also help with the distortion of your artwork, providing a 3D rendered proof for mobile or desktop interaction. A very exciting new journey for Berkshire Labels with a comprehensive overview to follow…