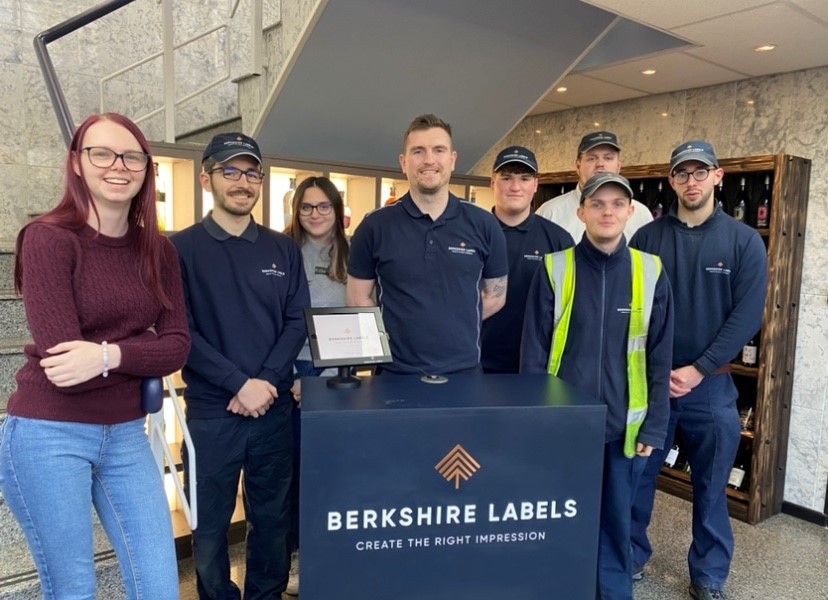 …Previously on The Apprentice Berkshire Labels got hired to help Lord Sugar, this time its #NationalApprenticeshipWeek2022 and we wanted to share our success stories achieved by including apprentices in our growth strategy.
Berkshire Labels have been progressing apprentices throughout our framework for several years now, and we can safely say that every team in our dynamic workforce has benefitted from the positive impact that this has made to them and the overall success of the business.
JOHNNY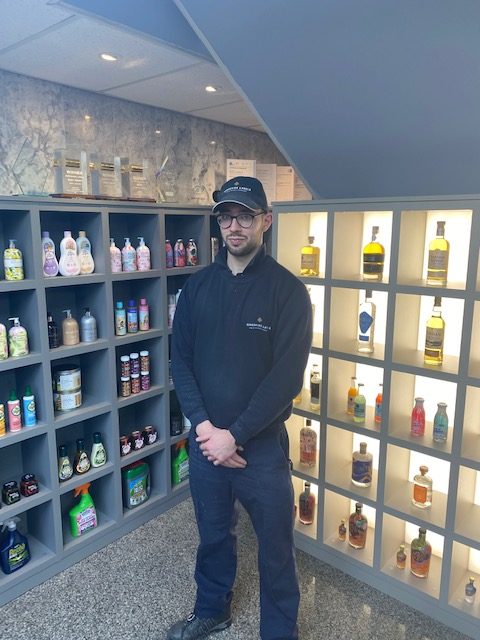 Our first apprentice, Johnny joined us in March 2015 as a Warehouse Apprentice via the West Berkshire Training Consortium (WBTC).
Working with our Despatch & Warehouse team Johnny was methodical & thorough in his learning journey and completed his Warehousing Level 2 Apprenticeship Framework qualification 12 months later.
Today, Johnny plays a pivotal role in our conventional finishing team working on our folder.
Working independently, Johnny is responsible for ensuring our quality standards & delivery times are met for all relevant customers.
He continues to be extremely methodical and process driven, and is a shining example of how it is possible to find 'the right person for the right job'.
JOSH
Josh completed his Intermediate Apprenticeship in Warehousing 12 months after joining the company, and is now an integral part of our Warehouse team managing numerous logistical responsibilities over the last four years.
He continues to be involved in our continuous improvement activities which form part of our strategy for continued growth.
Here's what Josh felt about his apprentice learning journey:
"The apprenticeship helped me understand why things have to be done, as well as how to do things, and gave me more knowledge of warehousing and logistics.
I would say the apprenticeship changed me, I learned new skills and became more confident in my role.  When I started, some of the training was new to me and covered things I had not done before.
I was encouraged to try, and the more I got involved, the more confident I became."
Here's what WBTC had to say about Josh's learning journey with us:
"Seeing Josh develop his skills in the workplace was very rewarding, and his work ethic and attitude are to be commended.
Josh took every challenge in his stride during his apprenticeship, and is a credit to himself, and the team at Berkshire Labels, who have supported and guided his development with WBTC".
CHRIS
Chris joined us in April 2018 as a Print Apprentice and has become an integral part of our print production team.
Starting his journey as part of the conventional print team – a vital part in the make-up of our manufacturing portfolio, Chris then progressed to our growing digicon finishing team where we are able to produce foil, embossing, screen, spot PMS colours, decorative varnishes and peel and read constructions.
Chris completed his GQA Level3 NVQ Diploma in Machine Printing, finishing his apprenticeship ahead of plan due to his hard work and determination to succeed.
Chris's knowledge of our overall print process continues to develop & grow despite his apprenticeship being complete and he is looking forward to the next challenge in his career as a fully-fledged print finisher.
CHARLIE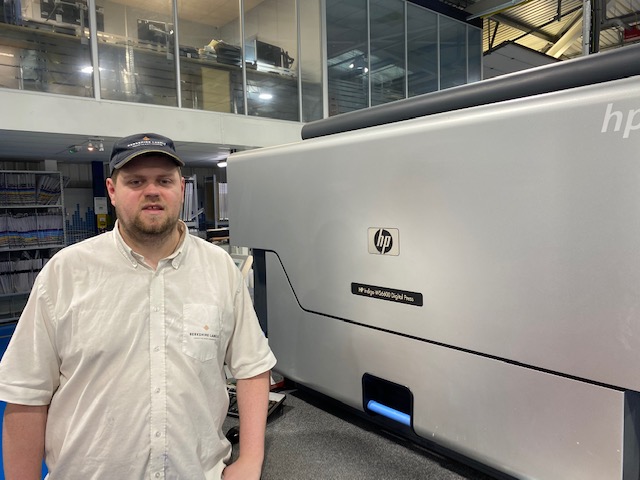 Joining us in September 2019, Charlie is now 18 months into his apprenticeship journey with us.
Working in our Digital Printing team Charlie is on track with his learning and hopes to complete his apprenticeship by October 2022.
Whilst completing his required training modules Charlie has learned how to identify opportunities for process improvements & problem solving, and most recently presented to the Management team in Berkshire Labels the topic of the different methods of printing.
With a target to complete his Level 3 Print Technician qualification this year Charlie will continue to progress within our 'record breaking' digital printing team.
CHLOE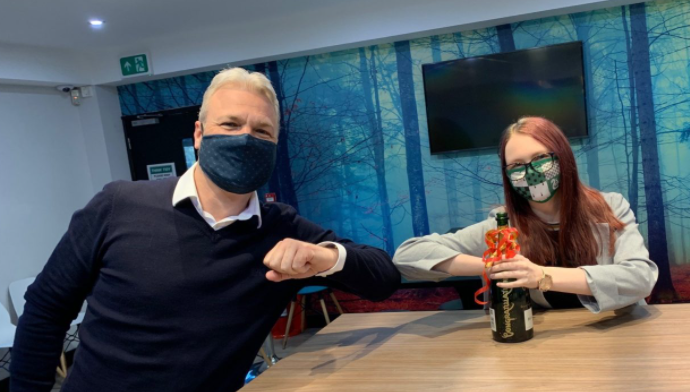 Chloe joined us in October 2019 following a gap year where she was unsure what route to take as the next step in her journey.
Within no time at all Chloe had completed her Business Administration Apprenticeship with the support of WBTC.
Here's what Chloe had to say about her apprenticeship experience with us:
"There was a time when apprenticeships were considered the 'last' option for individuals leaving school and college. I can honestly say it was the best decision I made in accepting the apprenticeship at Berkshire Labels.
I have received great support and guidance from my mentor, and enjoyed the exposure to the business this gave me that other roles wouldn't have. It has helped me realise what I want from my career and I would highly recommend anyone considering an apprenticeship to go for it."
Considering this was Chloe's first experience of work, she required very little supervision to ensure tasks were completed and deadlines met, often exceeding our expectations by going over and above what was required or asked of her.
In addition to completing her apprenticeship she has also achieved certifications in Basic, Intermediate and advanced Excel as well as Sage Payroll (which is a huge achievement). Chloe is now a solid and essential member of our team.
She continues to evolve and is now considering her next step for personal development which we encourage whole heartedly.
OWAIN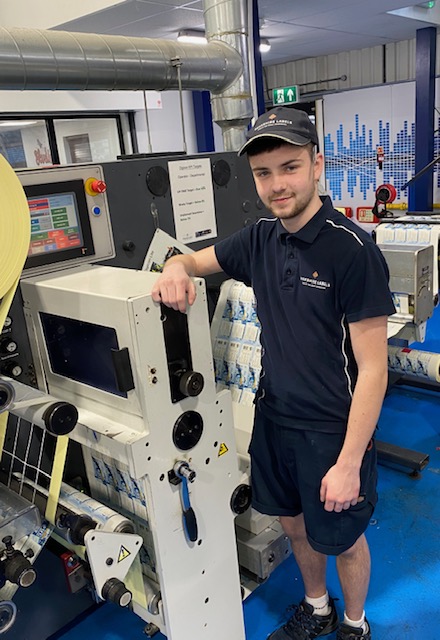 Owain works within our Digital Finishing team, alongside Chris (mentioned earlier) and is working towards his Level 3 Print Technician qualification.
Seeking an apprenticeship after previously being enrolled on an Electrical Engineering course, Owain quickly settled into life at Berkshire Labels when he joined us in May 2021, enjoying the fast paced environment and balancing the work/study involved in his apprenticeship.
So far, Owain has received training on all industry printing processes and continues to develop his understanding of the advantages & disadvantages of each process.
His next module will focus on Health & Safety elements within the printing industry where he will be asked to carry out a risk assessment on his current equipment.
In his short time with us it's clear to see that Owain has what it takes to become an extremely competent printer and develop a fantastic future with Berkshire Labels.
REBEKAH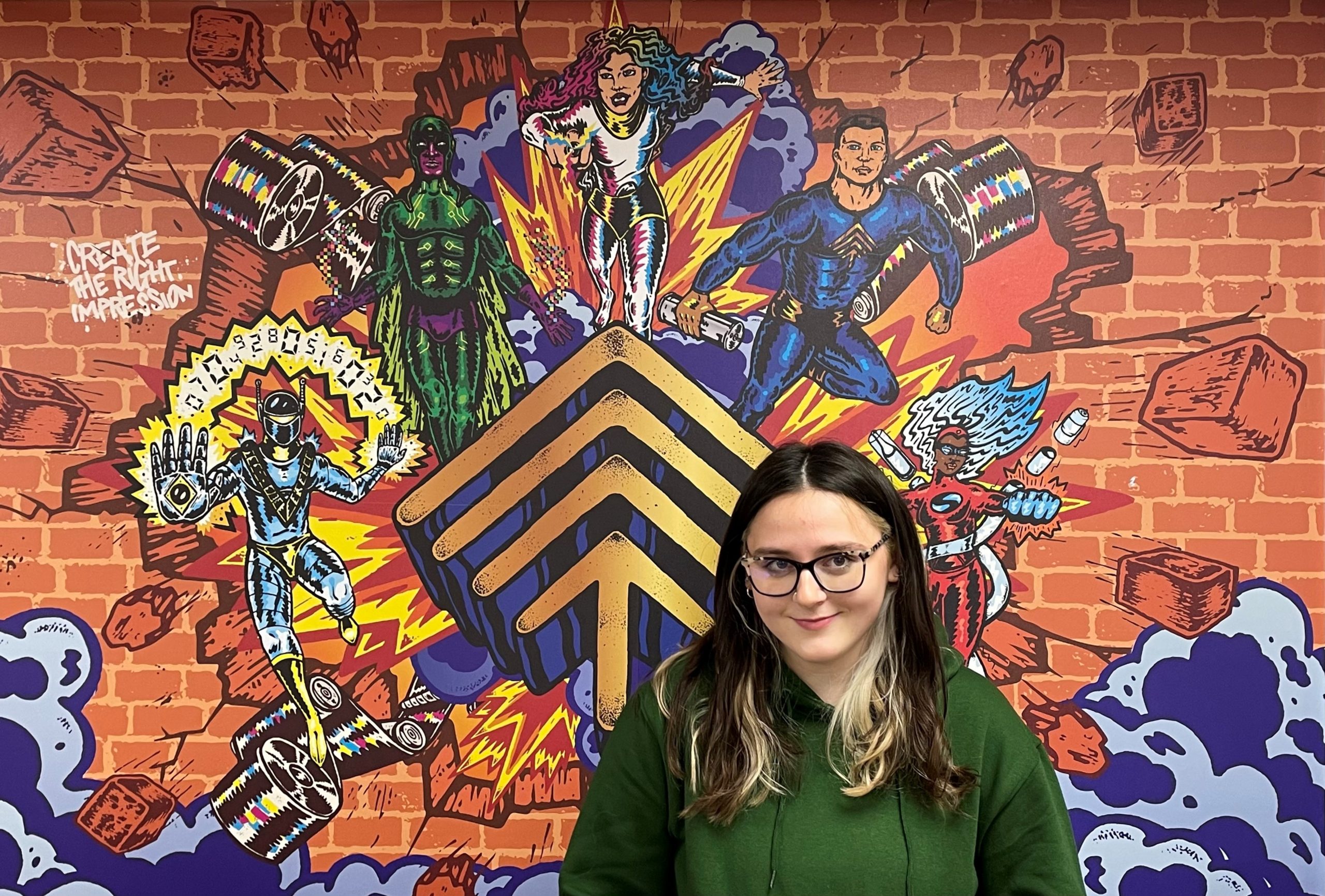 Rebekah joined us in July 2021 as an Artwork Apprentice studying through the British Printing Industry Federation (BPIF) and instantly became a key member of our growing studio team.
As part of Rebekah's Level 3 Design & PrePress apprenticeship she was recently asked to create an article on the topic of Safe Drinking, an important message for all.
We were proud to find out that this article has now been published, and will be used internally by the BPIF training team as training material.
It is great to see our apprentices growing in both knowledge & confidence and Rebekah is a great example of this.
HARVEY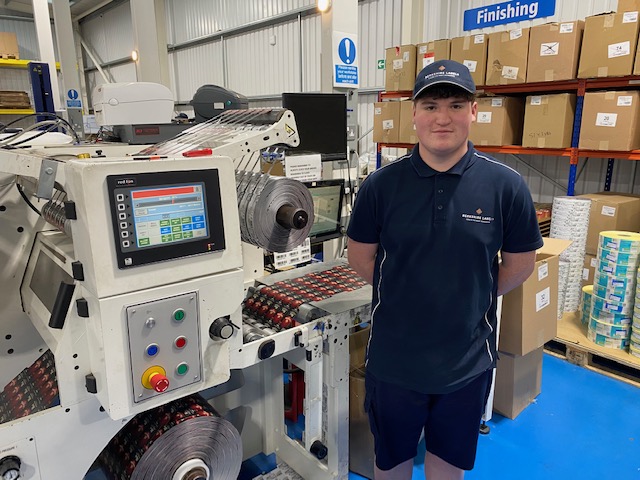 Joining us in September of last year, Harvey is working towards his Level 3 Print Technician qualification with a plan to experience and learn about all areas of Berkshire Labels throughout his journey.
Starting in our conventional finishing team Harvey has learned the fundamentals of print finishing at a time when we are investing in every area of our business with new technology.
He has an exciting time ahead of him as one of our newest apprentices, with plenty of support from all our employees, his mentor from BPIF and all other apprentices in the businesses.
NEED SOME MORE INSPIRATION?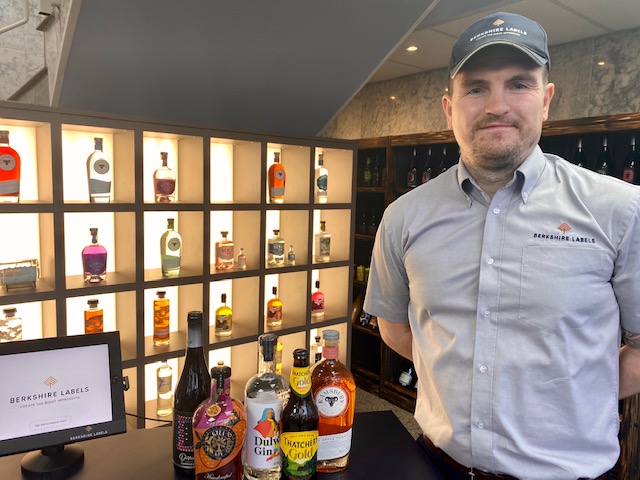 CRAIG JONES – PRODUCTION MANAGER
Craig joined Berkshire labels last year as our Production Manager, his journey into the printing industry however began in 2007, starting as a general apprentice at a self-adhesive label company in South Wales. He began learning each stage of the process that is required in the manufacturing of labels over 2 years.
His learning and training saw him safely and efficiently master working on different machines from letterpress & flexo print lines to rewind inspection and applicator lines.
"The apprenticeship gave the skills to run a variety of machines and the understanding of many technical aspects & inputs that are required in the print industry. It also gave me the overall knowledge of how a production environment operates."
11 years later, qualified to ILM Level 5 in Leadership & Management, and with several years of leadership experience under his belt, Craig joined us as our current Production Manager.
"Gaining a great amount of knowledge & experience in print operations on top of my fundamental knowledge gained from the grass roots of my apprenticeship, I now have a huge opportunity to continue to grow with one of the best in the business in terms of safety, quality & delivery."
WHY CRAIG BELIEVES IN THE IMPORTANCE OF APPRENTICESHIP SCHEMES FOR ANY BUSINESS
"The apprenticeship for me is a vital part of any learning at the start of a new career. It gives you the foundations and understanding of the industry you have chosen and how it operates.
An Apprenticeship gives the individual the core values including safety, Quality, Cost, Delivery, and People. This foundation creates a great start for anyone from that point onwards, the sky really is the limit if you put your mind to it.
We have successfully worked with the BPIF at Berkshire labels bringing a number of apprentices through the business and they are a credit to us. The investment into the apprenticeship scheme has contributed to us becoming a more successful production team and enabling us to grow as a business. It's invaluable for future growth".
ONWARDS AND UPWARDS
With such a successful track record and with further plans for investment, we have decided push forward with our apprenticeship recruitment plans despite the challenging times that a global pandemic has presented.
We plan to add three further apprentices to our team and are actively looking for some special individuals to join us. So if this is you, or you know someone that is ready for the next challenge, please get in touch.
T: 01488 683628
It is a fantastic career opportunity for anyone looking for specialist industry apprenticeship training and the ability to grow a career within our fast paced dynamic printing team.
And who knows, we could be saying to you, "You're Hired" sooner than you think!